Science Promenade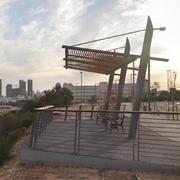 The Science Promenade is an 800 m route for pedestrians and cyclists, connecting between the train station at the foot of the bedrock cliff and the TAU campus and PSES Building. The promenade is constructed on the slope rising above the Ayalon Highway, overlooking the Tel Aviv skyline and the green space of the Yarkon Park / Ganei Yehoshua. It includes a 2.6 m wide paved path for pedestrians and a separate 2.2 m wide asphalt bicycle route. The partition features shading trees, lamp poles and seating benches. The promenade is constructed from green materials, makes use of water efficient indigenous vegetation, and is well integrated into the landscape in terms of design.
The Science Promenade offers its passers-by four shaded observation points – two of which protrude from the cliff without damaging it, and the other two are on the ground at the edge of the cliff. These porches will feature technological displays and interactive exhibits, presenting varied scientific and environmental issues, in the spirit of the university and the School of Environmental Studies. Seating areas will welcome outdoor classes to be held on the porches. Additionally, users of the promenade will be exposed to activities held in and around the PSES Building.
In the future the Science Promenade is planned to connect to an extended promenade, ranging from KKL Street in the north to HaYArkon Park in the south, also reaching the western museum area. At the end of the process, this promenade will be connected to the Tel Aviv beach front promenade network.