Jincheng Luo - Researching New Methods to Extract Proteins from Algae
Jincheng Luo, an alumni of the international MA program in Environmental Studies at TAU, conducted the research with a collaborative research group from three institutions. The research paper was published in the leading Food Science academic journal, Food Hydrocolloids
Jincheng Luo received his M.A. degree (magna cum laude) from the International MA program in Environmental Studies at Tel Aviv University in 2016, with Dr. Alex Golberg as his research supervisor. His final project paper was "Biorefinery from seaweeds -- Protein Extraction from Ulva.rigida and its Optimization".
Jincheng said it was a very good experience to conduct his research at the Environmental Bio-engineering Lab at the Porter school, being both a very lovely place to study and work at and an opportunity to work with excellent peers from all over the world. 
He focused on studying algae protein extraction of Ulva rigida and doing pioneering process optimization works because following the growth in world population, the demand for protein is increasing world-widely and has generated a need to utilize additional protein resources to those currently available. Fortunately, Ulva is a great potential protein alternative resource for feed or food. The optimized algal protein extraction protocol could be applied to other sources of biomass and has potential to be used as a part of an integrated bio-refinery process.
After graduating from Tel Aviv University and returning to China, Jincheng is working in Beijing as an editor in an academic journal ENVIRONMENTAL PROTECTION, which is affiliated to the Ministry of Ecology and Environment in China.
Jincheng's research group at the Environmental Bio-engineering Lab, directed by Dr. Alex Golberg, continued the algal protein extraction research in a fruitful collaboration with the Laboratory of Biopolymers for Food and Health, Department of Biotechnology and Food Engineering, Technion and the National Institute of Oceanography, Haifa. The research paper, "Extraction of proteins from two marine macroalgae, Ulva sp. and Gracilaria sp., for food application, and evaluating digestibility, amino acid composition and antioxidant properties of the protein concentrates" was published in the academic journal Food Hydrocolloids.
The research team continues to develop a new protocol for the extraction of macroalgal proteins from Ulva sp. and Gracilaria sp. which is applicable for food production. This novel algal protein extraction technology may have a far-reaching influence on renewable source of proteins for human nutrition and industrial food processing.
Jincheng commented that his experience and knowledge gained in the International MA program in environmental studies was found to be most helpful in his current work as an editor, as he is presented with articles from diverse environment areas such as environmental ethics, environmental policy, environmental health, environmental economics and earth science and need to evaluate them with a deep understanding in a wide range of environmental topics and research methods.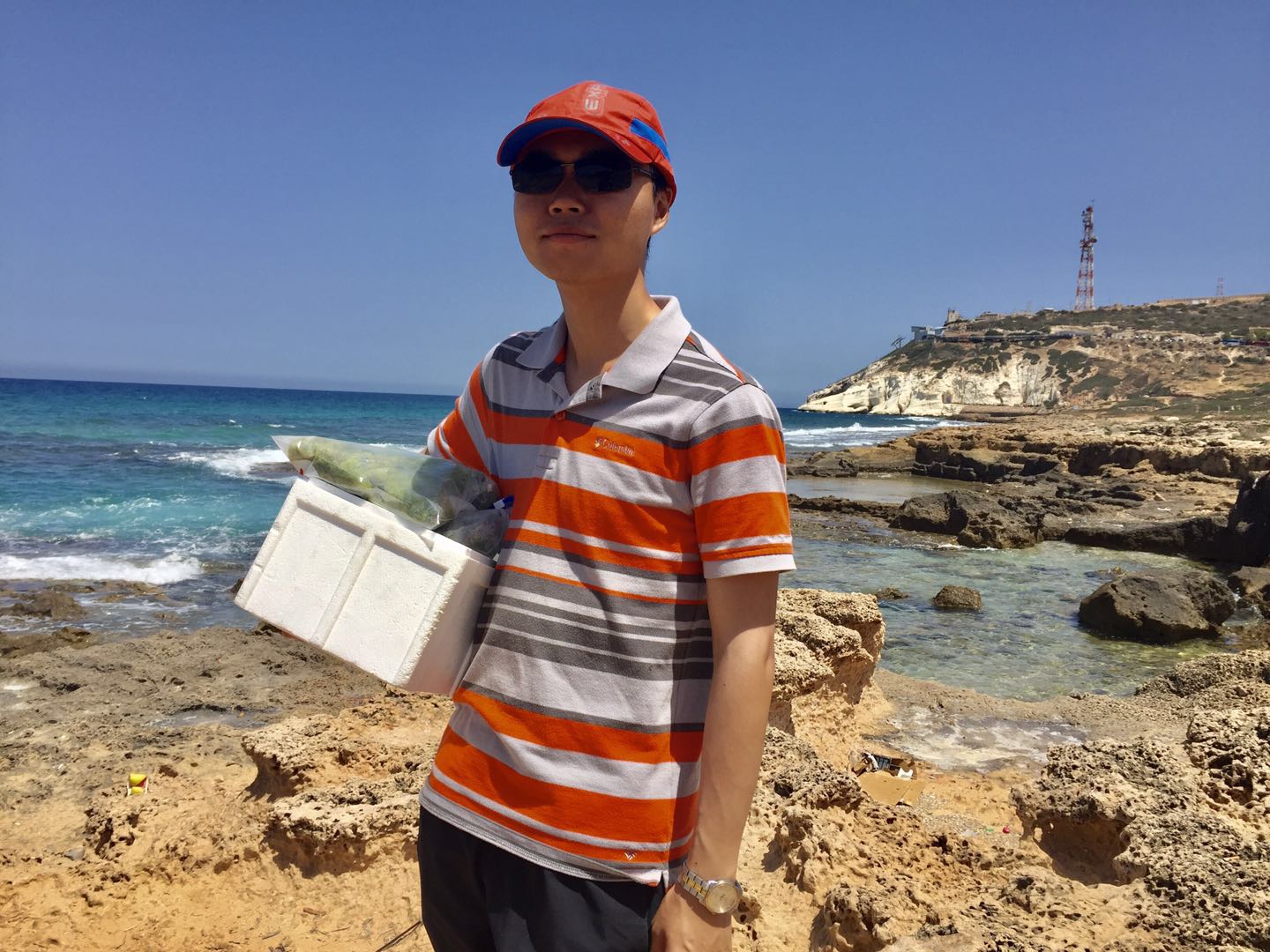 Image:  Jincheng Luo during algae research, at Rosh Hanikra, Israel